Commercial Electrical Panel Installation & Repair
The electrical panel takes electricity from the power company and splits it into branch circuits or feeds into other electrical panels, where the electricity is distributed yet again
What Does an Electrical Panel Do?
The electrical panel is the hub of an electrical distribution system.
It takes electricity from the power company and splits it into branch circuits or feeds into other electrical panels, where the electricity is distributed yet again.
It's part of the "service entrance," so to speak, and the location for all circuit-protective and safety devices, like breakers or fuses.
In all buildings — residential, commercial, and industrial — panels are usually installed near the electric meter.
You'll find one or more main breakers in the panel and several smaller circuit breakers.
The main breakers shut off power to the entire panel, while the circuit breakers shut off power to individual circuits (areas of the building).
When a building loses power, and no outage has been reported to the area, the panel is the first thing we check. Most outages are due to a flipped switch or blown fuse in the panel, and even if a general outage has occurred, it's good practice to check the main power breaker and panel box.
G3 Electrical services all commercial panels.
We can upgrade your existing panel for increased load capacity and improved efficiency.
We'll install new panels according to spec for your commercial or industrial construction project.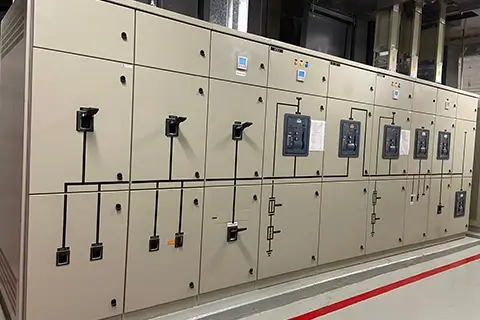 Types of Electrical Panels
Depending on the context, electrical panels can go by different names, including:
Electrical box
Panelboard
Load center
Breaker panel
Service panel
Breaker box
Main distribution panel
Switchboard
Fuse box
No matter what you call it, the electrical panel is a vital part of your commercial or industrial building's electrical system. If it's not functioning correctly, nothing electrical will function correctly.
Types of Panels
Main breaker panels
Main lug panels
Sub-panels
Transfer Switches
Where's the Electrical Panel in Your Business?
The electrical panel sits in a painted, usually gray metal box. You'll find it in an easily accessible but out-of-the-way area of your business.
OSHA and NFPA codes require it to be clear of obstructions.
Often, the panel is in a basement or closet, but if you can't locate the panel inside, it may be outside in a box protected from the elements.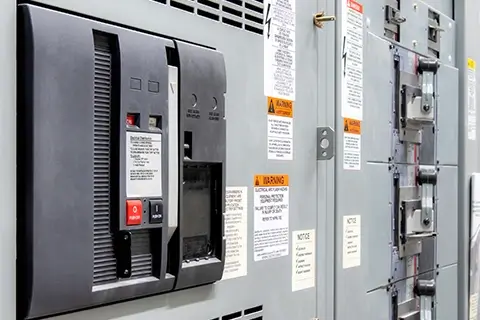 Which Electrical Panel Should You Choose?
In a new commercial building, the architect or general contractor will have approved plans for electrical work and panel size.
Old panel boxes might not be able to keep up with electrical demands as equipment and outlets are added to existing space.
Remodeling or expanding a building usually calls for an upgraded panel box, not just for current demands — pun intended — but for expected demands 20 years down the line — pun also intended.
If an upgrade seems likely, here are some things to consider.
How many amps should the panel be rated for?
Is this the main lug or main circuit breaker panel?
Is the panel being installed indoors or outdoors?
What NEMA rating does it need to be: N1, N3R, N4, etc.?
Will the panel be surface-mounted to the wall or flush-mounted?
How many spaces/circuits does the panel need?
What type of electrical service does the building use?
Do you need single-phase, three-phase WYE, or three-phase Delta circuits?
What's the system voltage?
What AIC rating will the panel need?
If any of that gibberish to you, we're here to explain all the nuances of commercial panel installation.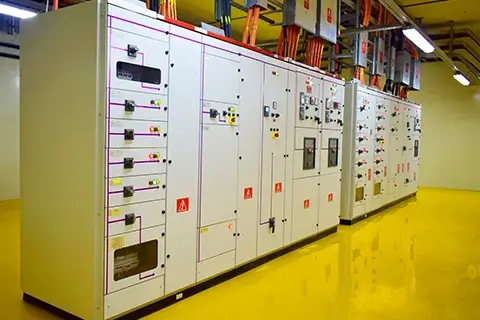 Reasons to Upgrade Your Commercial Electrical Panel
When your business grows, energy demands grow as well, unless you're burning fish oil for energy in a medieval castle (unlikely, but possible in Las Vegas).
Energy upgrades necessitate panel upgrades and electrical expansion to handle the increased load.
Also, if you're remodeling, a panel upgrade is a good idea to be on the safe side. You'll keep electrical systems safe and efficient.
Many businesses today in older buildings have inadequate electrical wiring for the demands of their equipment. Making matters worse, electrical wiring and panels often go untouched during cosmetic building renovations and office reconfigurations.
A capable and well-functioning panel is essential to the safety of your business and staff.
To comply with OSHA regulations ( Occupational Safety and Health Administration and the NFPA (National Fire Protection Association), all commercial electrical panels must have a dead front, ensuring that no one is exposed to live parts and possible electric shock.
Other reasons for an electrical panel and wiring upgrade include:
Newly purchased equipment like copiers, computers, projectors, servers, printers, and machinery that draw more power than the panel box can handle and require dedicated circuits or specialty outlets.
Overuse of extension cords to power the devices in your building.
A new requirement for a 240-volt circuit or higher. This is especially true if you add Level 2 and 3 electric car chargers to your commercial or industrial property.
Outdated and unsafe panels in your building, like split bus or fuse box panels.
The computers in the office need a separate circuit;
You're renovating or remodeling your building and expanding the square footage.
Problems with overheating electrical service conductors.
Crackling sounds coming from the electrical panel.
Corrosion or rust on the breakers or panel.
Overheating electrical service conductors
Outlet expansion or upgrades.
Electronic devices not operating at full power; flickering lights.
Breakers that trip often or fuses that blow; defective circuit breakers.
Melted electrical wires.
The addition of a sub-panel.
Your insurance company requires a new electrical panel upgrade.
A licensed commercial electrician should do the work. Any electrical work out of compliance with building codes could void your insurance, which is bad news when an electrical fire breaks out.
Cost Breakdown of a Commercial Electrical Panel Upgrade
The most common cost range to upgrade electrical panels is between $2,650 and $3,000, but that's for a 200-amp electrical panel. Your business may need more than that.
A 400-amp panel installation can go as high as $4,000. An industrial electrical panel upgrade or new installation can be in the tens of thousands of dollars.
Call us for an estimate. We'll tell you exactly what you need and won't try to sell you anything you don't need.
We specialize in commercial electric work and will:
Select and install the right size service panel for your business.
Take care of local planning permits and approvals.
Install wiring to local and federal codes for your building type.
Install, if necessary, a different power supply or meter.
Repair or replace existing wires to meet current codes.
Use the best materials for commercial and industrial buildings, including safe and proper grounding with copper.
Thoroughly explain your new system, including a detailed schematic of your new panel and wiring with all functions and switches.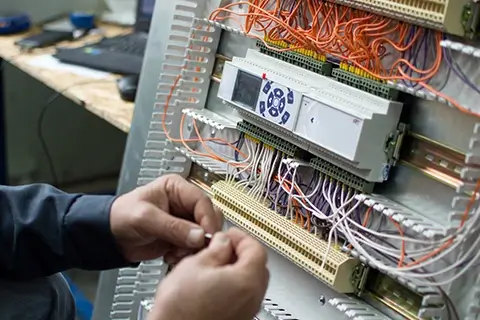 G3 Is a Qmerit-Certified Electrician
Qmerit-certified electricians are:
Properly licensed, fully insured, and thoroughly background-checked.
Compliant with all applicable worker's compensation guidelines.
Required to secure permits to verify that installations meet local building codes.
Teamed with industry experts for training on the latest technologies.
Only select electrical service providers earn the exclusive Qmerit certification, a symbol of excellence in electrification. You can depend on Qmerit-certified partners to provide trusted installation solutions that meet the highest standards for safety and service quality.