Commercial & Industrial Lighting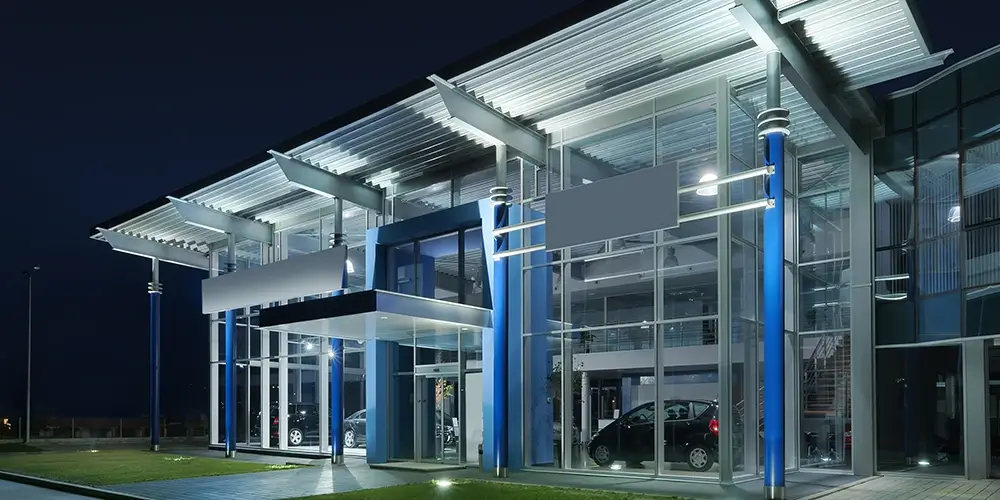 At G3, we'll design an efficient, affordable commercial lighting system for your office, retail space, warehouse, and even parking lot.
How much does it cost to keep the lights on? Does your office lighting enhance the workspace, or is it strictly functional? Almost industrial?
At G3, we'll design an efficient, affordable commercial lighting system for your office, retail space, warehouse, and even parking lot that:
Looks sleek and modern
Complies with local building codes
Uses comparatively little energy
Creates a pleasant ambiance
Improves safety and productivity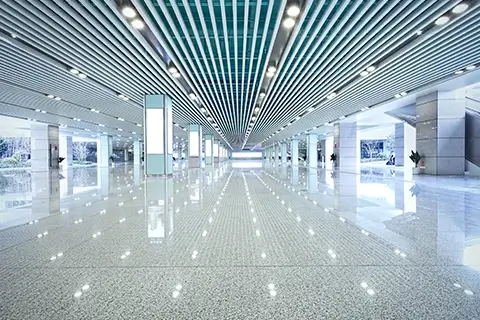 What Is Commercial Lighting?
Commercial lighting is any light used in a commercial setting, from the simple fluorescent bulbs in an office to the more complex industrial lighting in a factory.
It must be durable, efficient, cost-effective, and compliant with the higher standards of commercial and industrial building codes.
It can also be beautiful! At G3 Electrical, we balance functionality and aesthetics to create gorgeous but affordable lighting systems that stand out among all your office, retail space, or factory features. The new furniture may impress them. The lighting, done the G3 way, will amaze them.
How Much Does Commercial Lighting Cost?
The cost of commercial lighting depends on the size and complexity of the system you choose, the type of lighting you have us install, the condition of your current system (how much needs to be retrofitted?), and several other factors we'll be glad to discuss with you.
We always work within your budget to give you the most bang for your buck and the best possible commercial lighting design.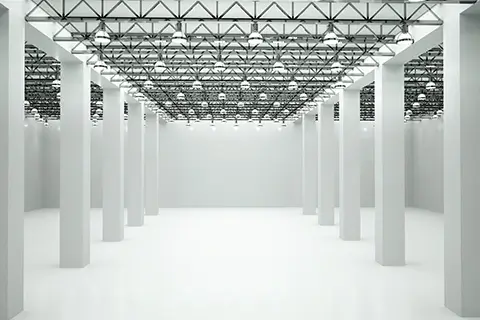 What Commercial Lighting Systems Do We Install?
Office lighting of all kinds
Parking lot lights
Warehouse lighting
Gas station lighting
Hotel, motel, and kitchen lighting
Retail lighting from convenience stores to malls
Hospital lighting
Security lighting
And more!
We can design your lighting system from scratch or follow a schematic diagram to the smallest detail. Let us know what you're looking for, and we'll give you an estimate for a lighting system to fit your needs and budget.
What Lighting Services Do We Provide?
New commercial lighting installation
Custom commercial lighting installation
Retrofitting of commercial lighting systems (to LED, for example)
Code-compliant commercial lighting design
Lighting maintenance and repair services (for all types of commercial lighting systems)
Custom commercial lighting installation
Lighting maintenance & repairs for any commercial space
We can handle any commercial lighting project, big or small. Contact us today for a free estimate.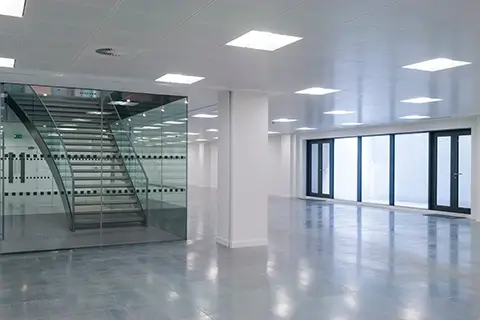 Various Types of Commercial Lighting
Each type of commercial lighting system offers different benefits. We'll help you decide which type is best suited for your workspace.
LED Lighting
LED lights (light-emitting diodes) are increasingly popular because they're adaptable and energy-efficient. They use 75% less power than incandescent bulbs and last up to 25 times longer, offering comparable or superior lighting quality compared to other systems (no yellow or bluish tint, etc.).
Pros
More energy-efficient
Longer lasting
Lower maintenance costs
High-quality, full-spectrum light
Cons
Higher upfront cost
Fluorescent Lighting
Fluorescent lights offer strong illumination at a low cost. Increasingly, new lighting technologies are replacing fluorescents because they're longer-lasting, more energy-efficient, and frankly prettier.
Fluorescents simulate white light by radiating just a few colors of the rainbow. And our bodies don't respond well to that kind of light — studies confirm that we tend to look and feel our worst under fluorescent lighting.
Pros
Low upfront cost
Cons
Not as energy-efficient
Can cause headaches and seizures
All fluorescent ballasts hum; magnetic ballasts hum a little more
Not as environmentally friendly (bulbs and tubes contain mercury)
Induction Lighting
Induction lights are similar to fluorescent lights but don't contain any mercury, making them more environmentally friendly. They also produce less heat than other types of commercial lighting. That's a definite plus in Las Vegas!
Induction lighting uses an electromagnetic field to produce light without filaments or tubes, so it lasts a long time and is very energy-efficient. It's a newer technology that's gaining a foothold in commercial settings.
Pros
Long-lasting
Very energy efficient
No filaments or tubes to break or wear out
Cons
More expensive than some other options
Not as widely available as some other lighting systems
Halogen Lighting
Halogen lights emit a bright white light with a powerful beam. They have a lifespan of about 3,000-5,000 hours and are best for floodlighting and industrial applications. Halogen lights contain a wire filament encased in a quartz tube filled with pressurized halogen gas. This gas reacts with the filament as electricity runs through it.
You can install halogen lights as reflective spotlights, floods, mini-can bulbs, double-ended quartz, parabolic aluminized spots, and more. They're highly versatile; the beam can focus on a single spot or flood a large area.
Pros
Overall best choice for industrial lighting
Brilliant light
Affordable
Cons
Not as energy-efficient as some other options
Replacement bulbs can be expensive
Generate a lot of heat
Incandescent Lighting
Incandescent lighting remains one of the most common types, even in commercial settings. Why? Because it's cheap and doesn't require any special wiring.
Incandescent lights aren't as powerful as most other industrial lighting types, and they have a short lifespan of 500-1,000 hours. They're also significantly less efficient than other commercial lighting choices, at about 10-17 lumens per watt.
They make a good choice for anyone looking to add extra light to a work area without spending too much money.
Pros
Inexpensive upfront cost
Cons
Not very energy efficient
Short lifespan
They generate a lot of heat
Full-Spectrum Lighting
Full-spectrum lighting looks and feels like natural sunlight, often shining in offices and studios — even gardens and aquariums!
Full-spectrum lights offer a warm ambiance without excessive heat. Indoor plants can perform photosynthesis without the aid of grow lamps. Employees and customers will feel better in a more natural lighting environment.
Full-spectrum lights produce an even spread of lightwave radiation between violet and red, making them perfect for commercial displays. Colors will appear rich and bright (unlike the washed-out look of fluorescents).
Full-spectrum industrial lighting comes in various bulb shapes, sizes, and wattages. You don't need us to install full-spectrum bulbs in your desk lamps, but call us if you're considering full-spectrum strip lighting for the ceiling of your commercial office space.
Pros
Creates a warm ambiance
Allows plants to photosynthesize
Colors appear vibrant
Cons
More expensive than some other options
Not as energy-efficient as some LED lights
We understand the unique challenges and needs of each business type. From code-required outdoor lighting to complex interior lighting layouts, we have the experience and expertise to get the job done right. And we'll work with you to find the most efficient and cost-effective solutions to meet your commercial lighting needs.
Call us today!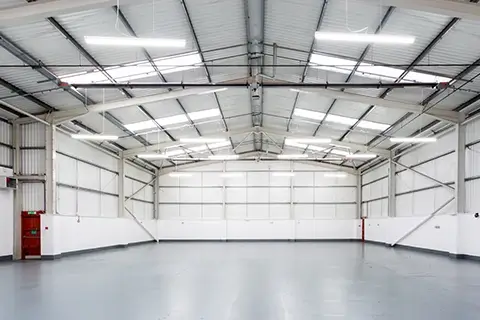 G3 Is a Qmerit-Certified Electrician
Qmerit-certified electricians are:
Properly licensed, fully insured, and thoroughly background-checked.
Compliant with all applicable worker's compensation guidelines.
Required to secure permits to verify that installations meet local building codes.
Teamed with industry experts for training on the latest technologies.
Only select electrical service providers earn the exclusive Qmerit certification, a symbol of excellence in electrification. You can depend on Qmerit-certified partners to provide trusted installation solutions that meet the highest standards for safety and service quality.